If you are anything like me collecting comics is more than just a one time thing.
Ever since the first time I held a comic book in my hands all I wanted to do is put it in a plastic sleeve and display it proudly in my bookcase. It didn't matter if the comic was a collectors dream of some amazing character's first appearance or just a single issue within the most mainstream story out there.
Collecting comics has been a part of my everyday life since my early ages of reading until today and hopefully will continue being a part of me for years to come.
How to Start your Comic Collection - Beginners Guide
There are a number of ways to go about collecting comics and I will try to briefly discuss some of them here.
Choose an Artist, Writer or Character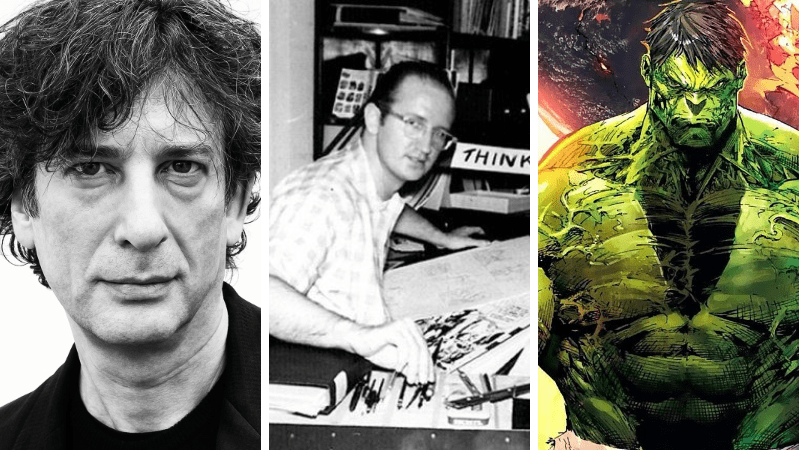 If you really want to start collecting comics you have to choose one of the above options. You can't just start buying everything from everyone with hopes that one day you'll have something complete.
You have to put some goals and some boundaries. Collecting comics can become a very expensive hobby if you are not careful.
Do you want to collect everything a specific comic artist is involved with or maybe there is a comic writer that you are just ecstatic about? Maybe you have a favorite comic book hero or villain that you just can't live without having their full collection.
Picking one of the above can make your comic book collection really easy.
Find your Local Comic Book Store
Nothing can compare with the feeling of walking around in a comic book store. No matter how many years pass, every time I enter a comic book store it makes me think of the first time I entered one, how magical everything seemed and in many cases I found things that I never thought I'd be interested in.
You can easily find the closest comic book store to your location using the Comic Shop Locator.
Buy Comics Online
Having said that, buying comics from a local comic book store is not always an option for a number of reasons. From personal experience, I had to move countries in order to find a comic store since Comics never really kicked off in my country and especially my town.
Thankfully this is the 21st century we live in and the internet is here to help you on your journey.
Buy your Comics from eBay
eBay is superior to most marketplaces out there for a number of reasons. First and foremost it's a great marketplace for beginner comic collectors because it contains pretty much every single comic issue or graphic novel ever published.
Most people tend to not trust sellers or being afraid that they will receive damaged goods but in all reality that lives an opening for people that really know what's going on. 99% of the time comics are near mint condition or new and dirt cheap!
Another way why eBay can be superior to other stores is the fact that users sell their entire comic book collections in Bulk Prices. Imagine how fast that would take your collection from 0 to 100%.
Last but not least you can find collector edition comics that you won't find anywhere else. eBay is the world's largest auction house and serious comic book collectors are selling their comics in auctions every day. In some cases, you'll be able to bid in comics that people are dying to have and if luck is on your side you might actually get some of them at great prices!
Buy your Comics from Amazon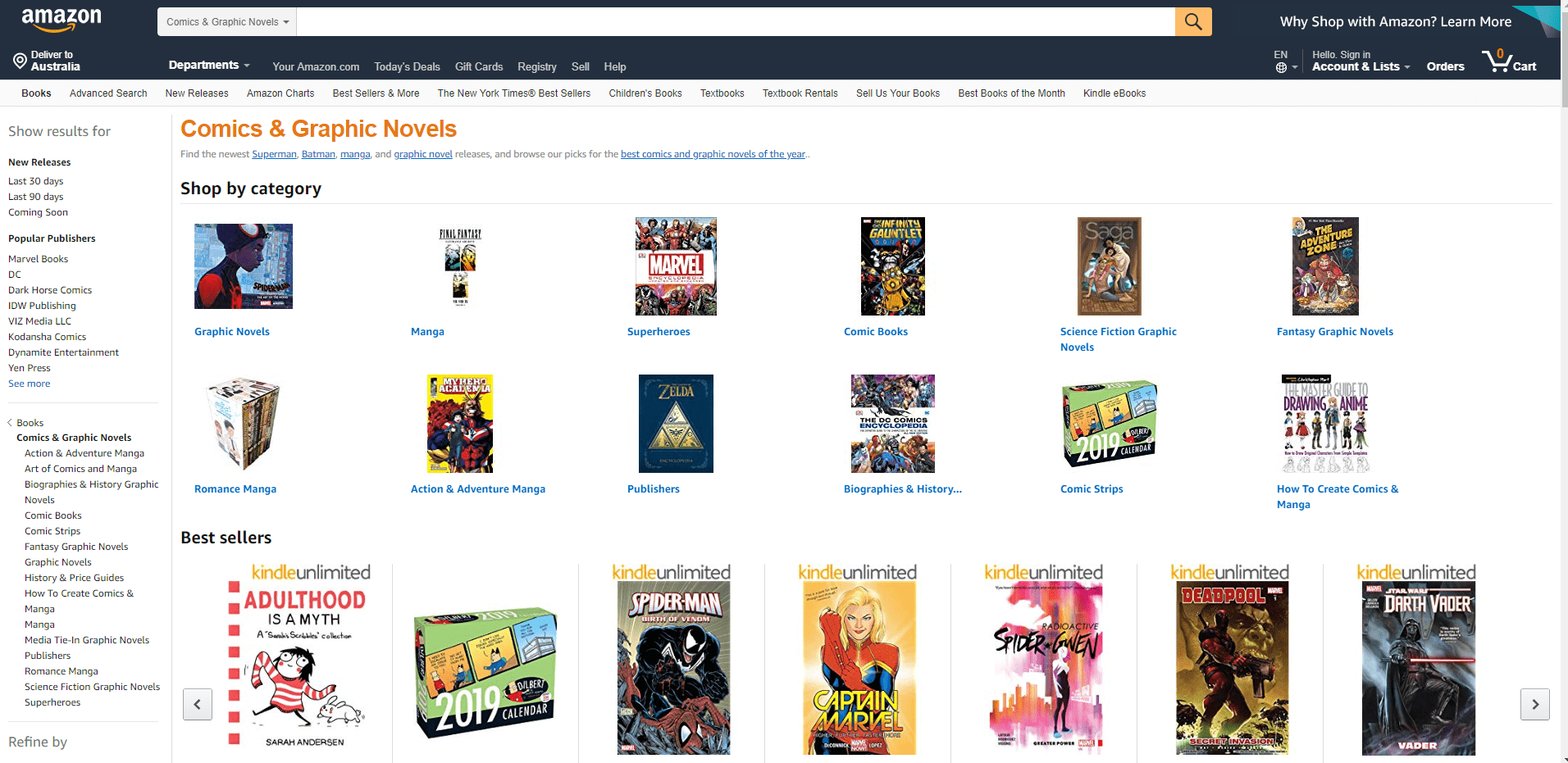 Amazon has been a gift that keeps on giving. With a great selection of comics and graphic novels, it's very hard to miss out on pretty much anything.
Another interesting way of buying through Amazon is by refining by the comic book author. You can also "follow" a specific author and get notifications when a new graphic novel or comic book issue from them is being published.
Amazon also has Kindle and Comixology versions of pretty much every comic they sell.
Buy your Comics from Online Comic Stores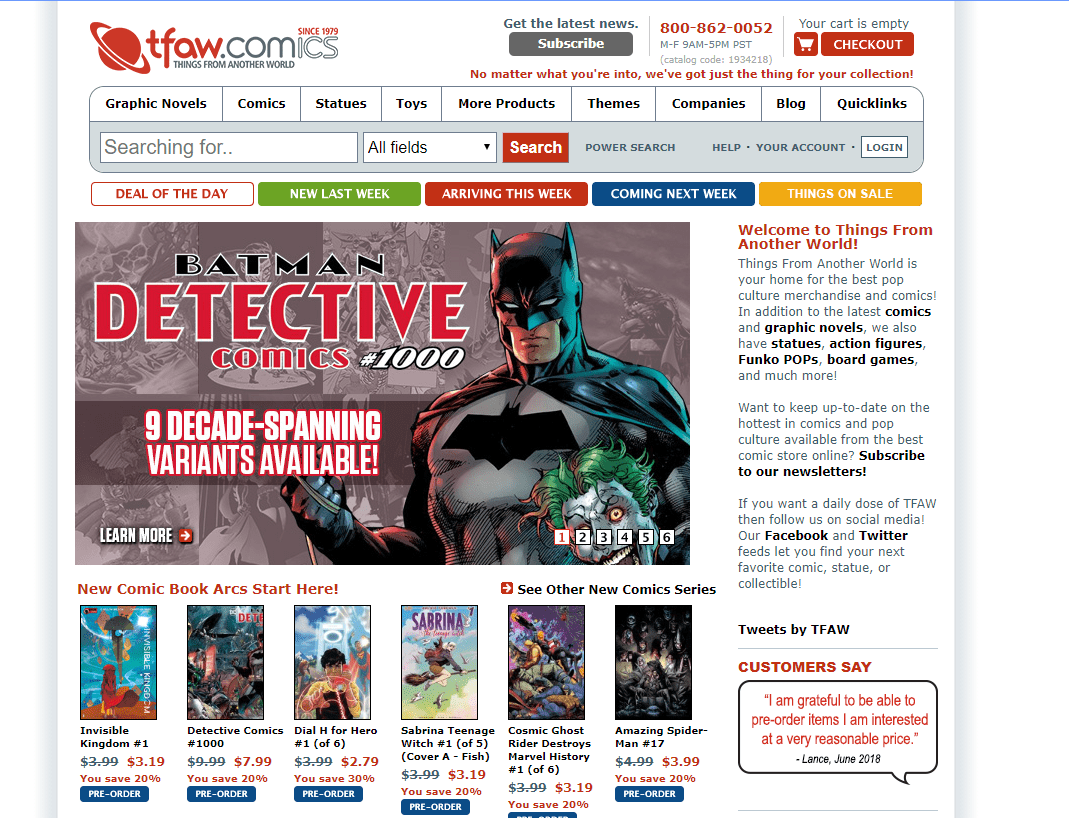 Last but not least online comic stores are a great option for acquiring comics and graphic novels for your collection. What is great with online comic book stores is the ability to create pull lists. Pull list is when a comic store set asides a number of comics for you that you either pick up in person or when for example you have 10 issues gathered they ship them to you.
This is extremely helpful because if you select 10 different comics from different publishers that all get published in different dates then paying shipping fees for all can set you back quite a bit.
Some online comic stores can also have some extremely competitive prices. For example, Things from Another World (aka TFAW) has prices that you probably won't find anywhere else. If you are lucky enough to live in one of the areas they have a store you can also just check their site order online and just walk in and get what you want.
Comic Book Collecting Supplies
Collecting comics is one thing but knowing how to handle and store them is another. Imagine if people that bought comics back in the Golden Age of comics did not store them properly. We would never have known any comic over 2-3 years old because of the decay.
Comics are valuable and delicate and they need to be treated as such. If you seriously want to become a comic collector you need to buy some tools that go with the trade. Most of them are super cheap and usually they are being send along with the comic but in many cases you'll need to buy some yourself.
Comic Bags and Back Boards
Comic bags are basically nylon sleeves that you put your comic into in order to keep it protected and the boards are usually a toughest piece of paper that you put at the back of your comic book in order to keep your comic books from bending. Those are the first step of keeping a comic book safe from tear and bend and also safe from liquid damage.
Even though they are not 100% airtight they are proved to help prevent moisture from destroying your comics as the years go by and they are also dirt cheap and you can basically buy those from any good comic book store or just from eBay.
Storage Boxes for Comics
After you have successfully bagged and boarded all of your comics you really need to store them somewhere safe. Bags and Boards are the first steps and even though they offer great protection, to begin with, Storage Boxes is a serious level up if you want to ensure that your collection will live forever.
Storage Boxes can fit up to 250 comics depending the size of them but this is not what makes them great. They have a tough exterior and you can stack them on top of each other. I would recommend against stacking a lot of them though for safety.
Most of the storage boxes are made from thick carton but you can easily find heavy duty comic storage boxes made from hard plastic.
Comic Filing Cabinet
If you looked around the internet before landing in this article then you probably have seen some serious comic collector rooms. What is almost certainly there is a filing cabinet.
Filing cabinets is the level up from storage boxes. If you have ever dreamed of going big on comics then what you thought of probably is a room filled with comics framed on the wall along with a number of filing cabinets with hundreds of your precious comics.
Since this can be a little bit pricey I suggest looking into some classified ads from people selling furniture. The cabinet won't be made for comics per se but it's quite easy to seperate each drawer accordingly.
If you are into making things from wood then you can make one yourself! If you do we will be interested to see it!
PRO TIP
Once you are done filing your comics (on boxes or cabinets) make sure to label them accordingly. Whether you are filling according Character, Author, Artist or Series it's your choice but labeling will help you find what you are looking for fast and easy. Remember that taking everything out and then putting them back in, in order to find a single issue is not just tedious but it can damage your collection as well.