Whether or not you are a fan of Telltale games, it goes without a doubt that "The Wolf Among Us" has been one of Telltale's greatest and most famous games. With the company officially shutting down and the release of a new season for the game seeming less and less possible, it's probably a good time to start reading the comic that the game was inspired from, "Fables".
Written by William "Bill" Willingham (most commonly known as Bill Willingham) creator of the "Elementals" comics, and illustrated by Mark Buckingham, "Fables" was published by DC Vertigo (a DC Comics imprint) in 2002 and concluded in 2015. The series is suggested for mature readers.
"Fables" first issue "Legends in Exile" was initially published in December of 2002, and has a total number of 150 issues. There is a good number of spin-off prequels and sequels to keep one entertained after finishing the main story.
A notable example of those spin-offs is "Fables: 1001 Nights of Snowfall", consisting of short stories as told by Snow White, which won the Best Anthology in 2007. One of those short stories called "A Frog's Eye View" talks about the tragic story of Prince Ambrose and won the award for Best Short Story in 2007.
In general, its a multi-award-winning comic series with fourteen Eisner Awards among which, the "Best New Series" in 2003 and "Best Serialized Story" in the same year. Various awards have also been given to the artists behind the inking, painting, and lettering.
"Fables" also gave Bill Willingham the title for "Best Writer" in 2009. So in the unlikely event, you are still wondering why you should start reading it as soon as possible, let's dive into the details of "Fables". Here are five spoiler-free reasons to get you started.
1. A Whole New World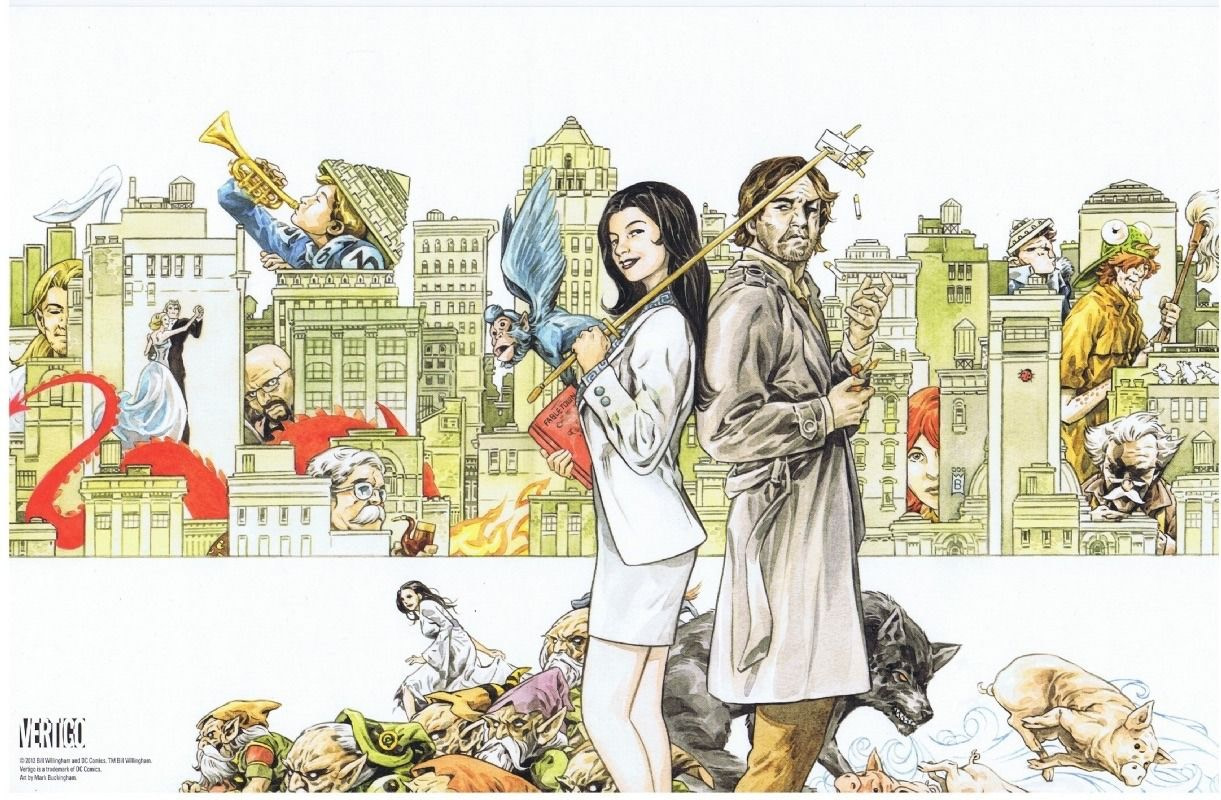 Growing up we have all been familiar with folklore stories and fairy tales, and it is not uncommon seeing characters of such tales introduced in more modern versions of themselves. In "Fables", we find many of our favorite characters (and others less familiar) as citizens of a hidden community in the heart of New York called Fabletown.
As we are informed by the sheriff, (who is Bigby aka the Big Bad Wolf), it's been over 200 years since Fables had to leave the Homelands (the original lands from the fairytales ), become refugees and pass as humans. Everyone is now used to the new life, having jobs and living in NY apartments.
Located in upstate NY, is Fabletown's annex The Farm. This is the place where all those fables who can't afford or can't pass as humans are forced to stay. The Farm is protected by powerful spells to keep the Mundy (normal humans) from finding out about them. Fables can leave The Farm if they can afford to buy a magic spell, called Glamour, that allows them to change their appearance. The black market IS a thing in Fabletown, but the spells are often unreliable or straight up failures.
2. Plot
As mentioned the fables are refugees. Once upon a time they lived at Homelands, a thousand of separated kingdoms spread over a hundred magical worlds (Remembrance Day Issue #4), until a mysterious force, The Adversary, forced them out of their land. After a period of the Fables being outlaws, they made the decision to come to our world, for which they had no interest.
Now a secret society, the Fables, learn to live together under the noses of the Mundy. Life in Fabletown is quite and according to Bigby the crimes that occur between the Fables are almost to no importance. But when he learns about the murder of one it's up to him and Snow White to find out the truth behind it.
After this detective sort of story, the plot continues to a rebellion to take back the Homelands, followed by public executions, management changes, a huge surprise (still spoiler free version) and the march of an entire army. Later on, we follow the story of a single-handed invasion to the Homelands, where we learn a great deal about the Adversary and get to see the use of some of the magical items our Fables own.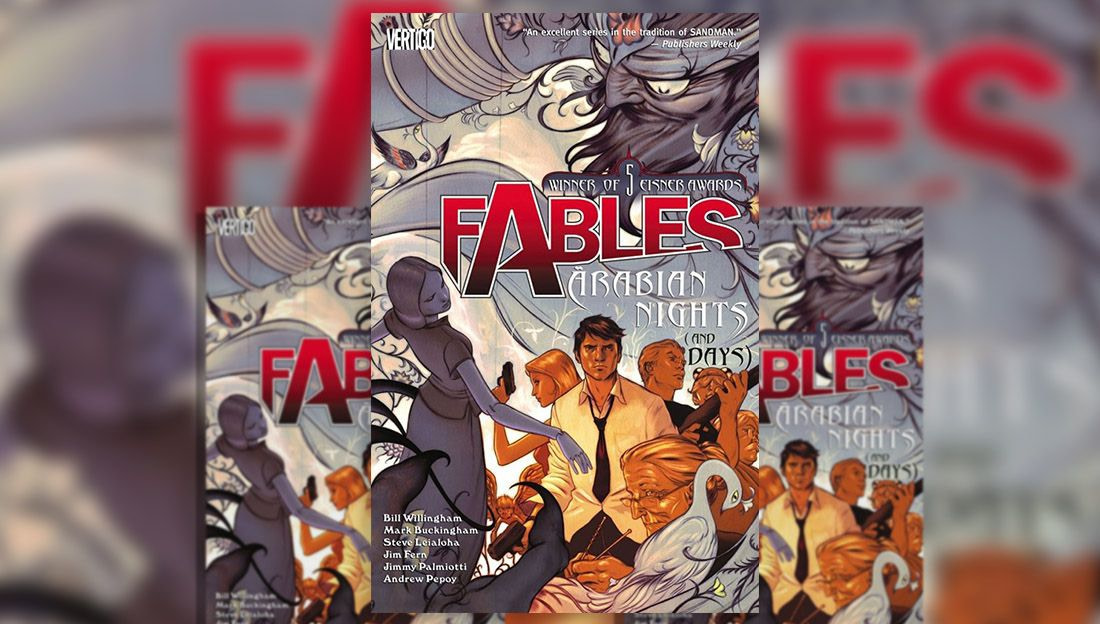 A war is not a war without diplomacy and what better way for our story to introduce us to its chapter of Arabian Fables (appearing on "Fables Vol. 7: Arabian Nights (and Days)") that bring with them a powerful magic being, betrayals and their own "Fabletown".
At the same storyline, Fabletown tries to find allies through a beanstalk while the Homelands conduct meetings, giving us more insight into their war plans and our heroes' opponents. Following the stories of witch hunting and a Santa Claus special, we witness the rise of a noble king, the formation of his kingdom and the beginning of the long-awaited war. The odds seem to be working in favor of Fabletown but same as in every war in history there are no true winners. We witness an enchanted city, great disasters, noble sacrifices and the results of a son's loyalty.
Not long after the war, there is a new threat for our dear Fables to face. This time an even greater force makes its appearance, threatening the community and forcing them once more into exile. Fabletown becomes now the center of extremely powerful and dark magic. Zombies march NY and an epic fight occur between teeth and sugar.
3. Characters
Throughout the series, we come to meet plenty of characters and follow many short stories about them. The plot thickens after Bigby's and Snow White's efforts to solve a murder case, unveiling individual's stories post and after the war.
Along the way, we come to like, love or hate some of them as well as understand their motives, beliefs, and actions. Whether they are "bad" or "good", there is always a reason for their actions, and this indicates good storytelling and character design.
Those actions usually have some consequence to the main story, even if at times they appear to only fill in space, so be alert while reading the issues if you are interested in partly unveiling the story on your own.
On the fun part, you come to realize that your childhood view of most of those characters is nothing like their "actual" personality. For example, Prince Charming has lost his title, and we learn that he has always been a pathological womanizer. Big Bad Wolf was the runt of the litter. Red Riding Hood likes to take vengeance on her sister, Beauty and the Beast tend to fight (A LOT) and many many MANY other fun facts about pretty much every character we meet along the way.
One of the best things about this series is the way those character's relationships evolve. Yes, they are a community at first, but later on, they become allies (at least most of them) who genuinely care and protect each other in order to win the war. There is a lot of character development, and each change is based on the experiences our heroes undergo throughout the entire series. It's important to take things with a pinch of salt as some Fables that you might dislike at first, will definitely change your opinion later on and vice versa.
Sympathizing with the characters comes very easily, and it doesn't take long till you start rooting for their victory, grief with them or for them, and hope for their happily ever after.
4. Arcs
The story consists of 57 story arcs featuring different protagonists each time. They usually have 3-4 issues (at times they are single issues), and they are vital to the story as they follow individuals, giving us a universal oversight of the characters, the worlds and the place of everyone in this war.
Although we'd love to elaborate on each arc separately, we will only mention a few that we believe are the most notable, with as few spoilers as possible.
Legends in Exile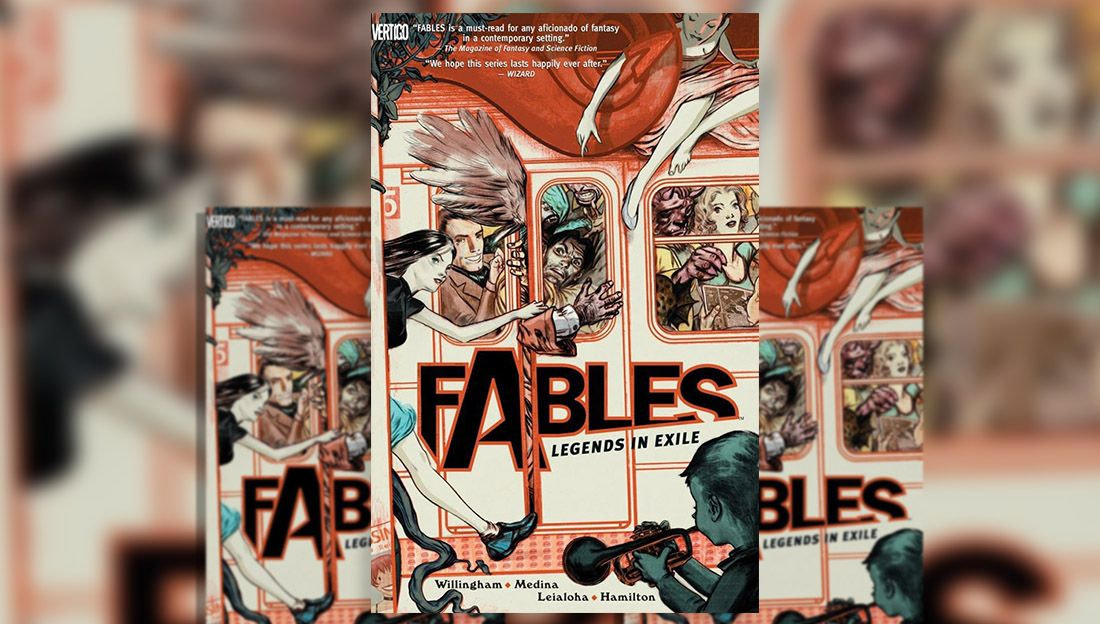 The first arc couldn't be missing from our favorites since it's the one that introduces us to this magical world. Following Bigby and Snow White, we become the detectives solving a horrible crime.
Read Fables Vol. 1: Legends in Exile
March of the Wooden Soldiers – part 2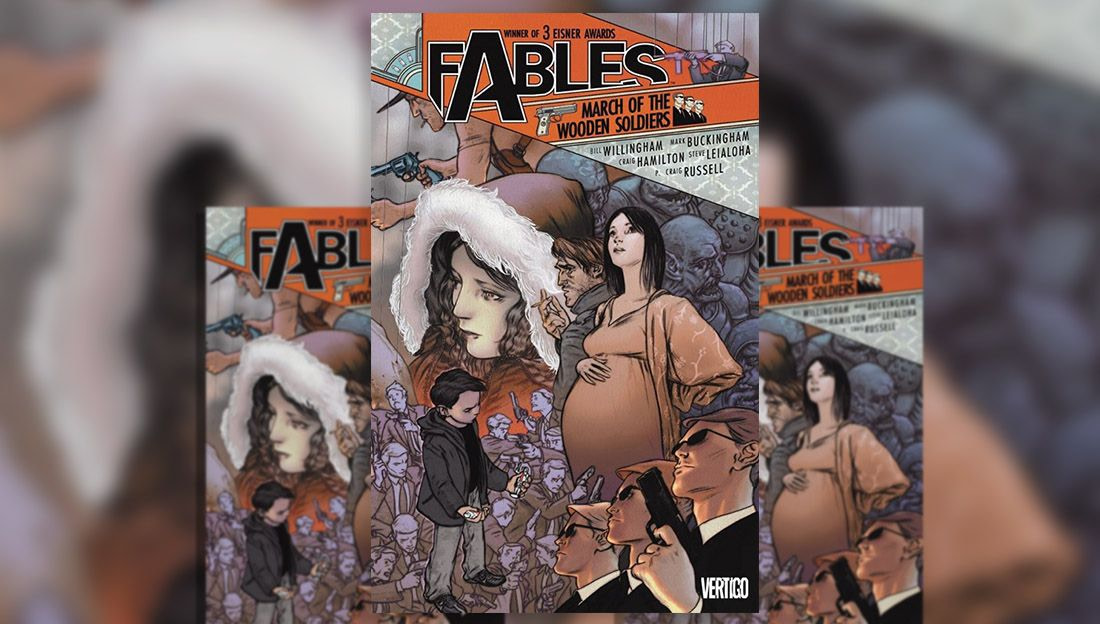 Fabletown is under attack, and all of the Fables join this epic fight. Animals vs. wooden soldiers, two witches fighting one another, and an unexpected death.
Read Fables Vol. 4: March of the Wooden Soldiers
Homelands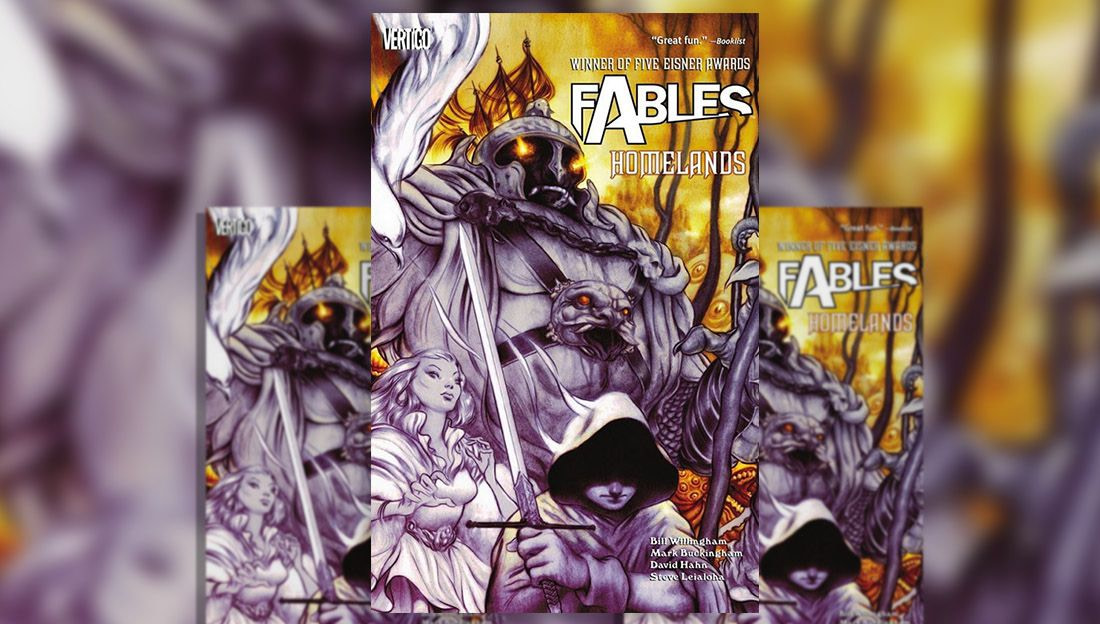 One of THE best arcs and our first full introduction to the Homelands, this arc is full of epic sword fights and a single-handed invasion. We also get to learn more about the Adversary's true identity, it's powers and its plans.
The Ballad of Rodney and June - Fables Issue #46 - 47
This is the story of a wooden soldier who falls in love with a wooden doll treating his injuries. Together they make their wish come true, and pay their debt to the Adversary by spying Fabletown.
Jiminy Christmas - Fables #56
This issue reveals two big secrets. Ambrose's part in the war, and FINALLY how Santa goes to every house in one night!
The Good Prince
The time is coming. A decision has been made for a prince to become a king, for friends to say their farewells, for ghosts to become flesh and blood, and for those who didn't know... to finally understand. This is one of the most epic arcs of the series.
Read Fables Vol.10: The Good Prince
War and Pieces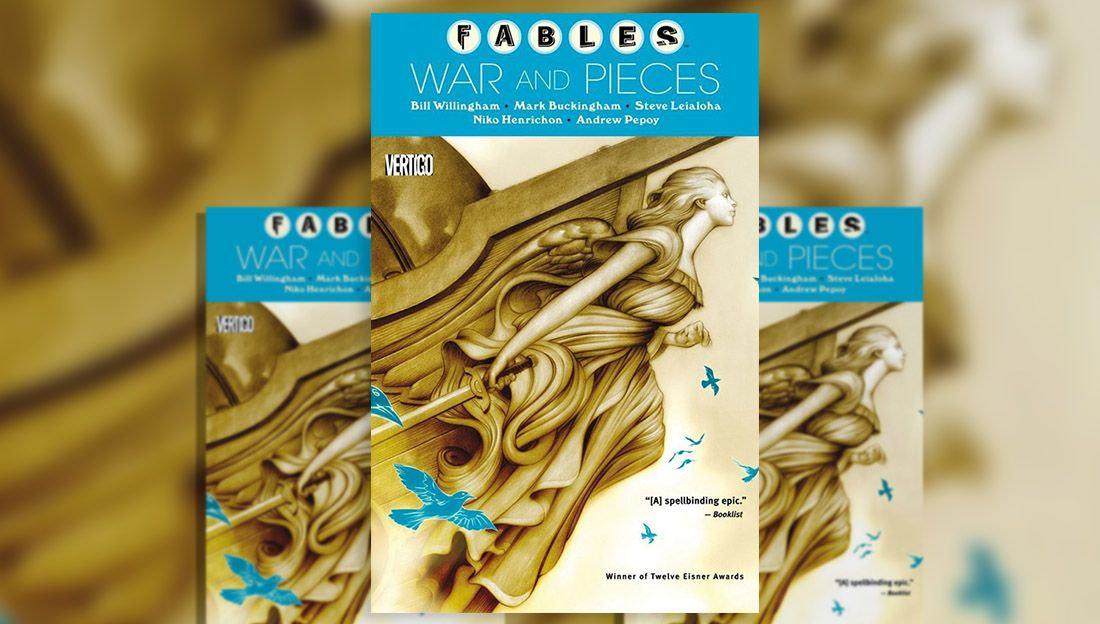 A three-front war from Fabletown and its allies with skyships, a fort and a special mission called site zero. It is now the Empire that is under attack.
Read Fables Vol.11: War and Pieces
Witches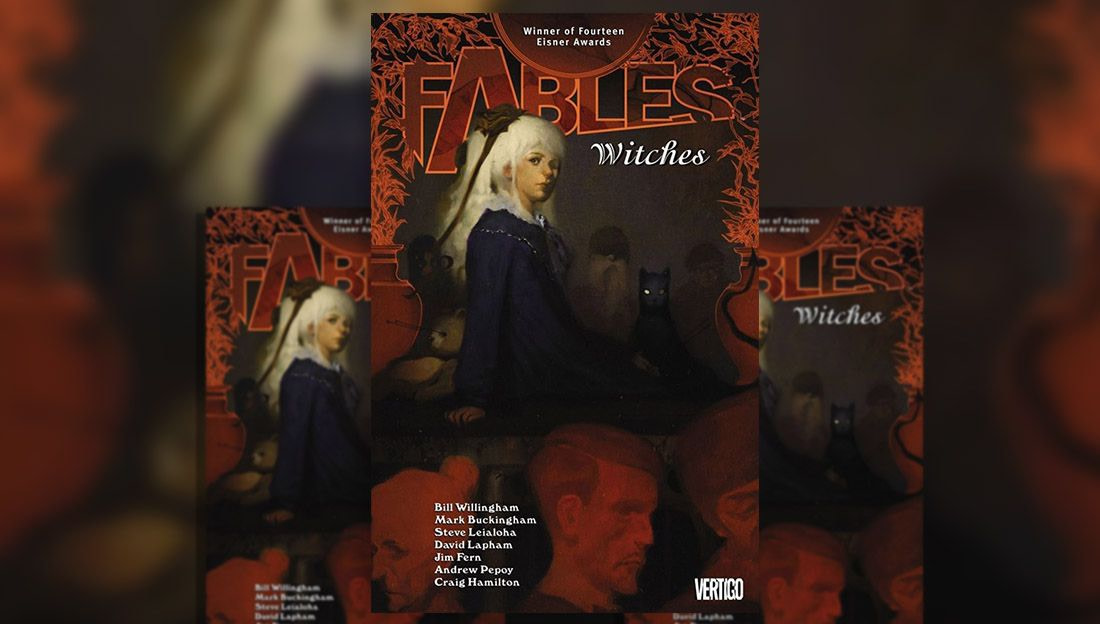 As the title hints, this is a chapter dedicated to witches. Good and bad. A meeting is held to vote for a new leader, a witch acts on her own trying to find information about the new enemy, an old man tries to become a leader once more, and an unexpected hero outsmarts a powerful witch.
Rose Red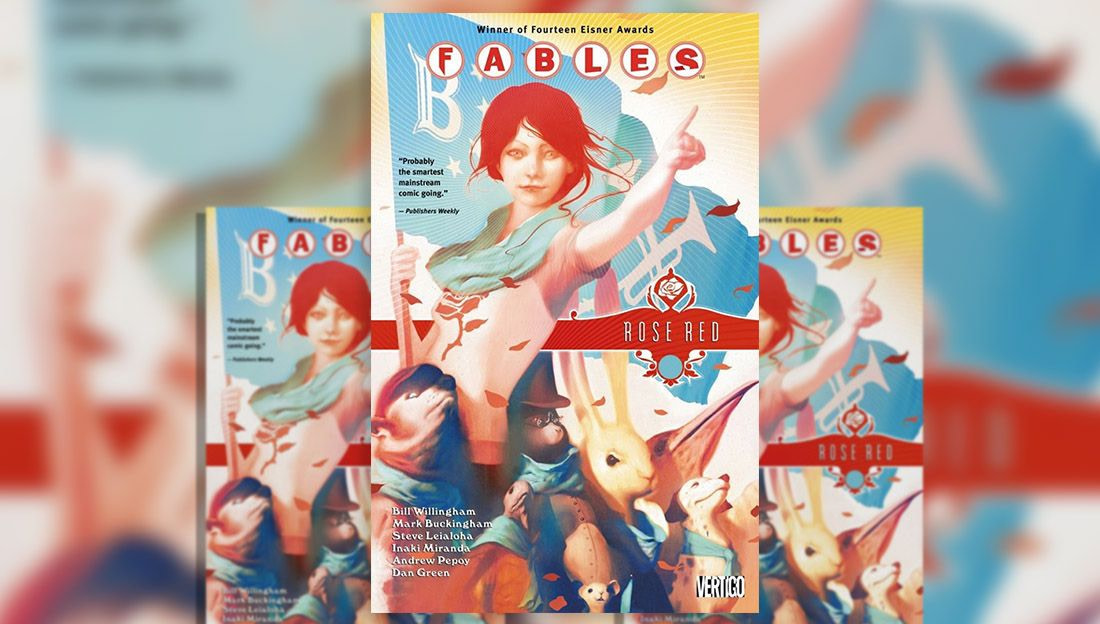 This is not the last arc, but it is the last one we will mention for now. This is the tale of two beloved sisters who forcibly grew apart, and one came to hate the other. This is Rose Red's story after losing her sister and we find out about Snow White's past.
5. Art
Great storytelling is accompanied by great visuals. Throughout the series, there are plenty of featured artists, with Mark Buckingham and Steve Leialoha working on most issues. The comic gains its unique style from them as well as the other artists who worked mostly on the spin-off stories in each arc. According to Mark Buckingham, the work was collaborative, and the artists working on different issues tried to keep the consistency in the details. In an interview, Buckingham mentions that he liked to explore and try new things, and so in his drawings he always tried to capture the world, the way the character we focus on each time would perceive it.
The artists' attention to detail is visible throughout the pages. The style is neat, appealing and fits the story as it changes from Fabletown and The Farm to the Homelands, or drifts into telling stories from the past, or reading them through a book. For example, we follow Boy Blue's adventure through borderless pages and drawings that at times overlap, and later we are introduced to them as if they are drawings in some fairytale book with colorful, patterned borders that unveil parts of the current events.
There are a number of things in each page that will make you look twice. First of all, there are some small drawings on the top. If you look at them first, you might understand a few things about what is going to happen. As long of course as you had been reading carefully. Below is an example of that case.

Each of these drawings is on a different page, and it compliments it very well.
Another way the pages differ from one another is the borders next to the panels which help to give depth to the main story panels. The example below is from Fables #81
Last but not least, the cover of each issue is a gem to this series. The style is epic, vibrant, intriguing and with plenty of subtle hints for the story that will follow.
All in all the story is a masterpiece of mystery, riddles, action, characters written with depth, funny lines, tragic stories, and fantastic artwork. It didn't win its awards by luck, and it's only natural it inspired a video game (a very successful one) and perhaps even a TV series ("Once Upon a Time"). So jump right up in this world of fairytales and watch the story unfold.
Get your copy: