Meet The Skrulls #1 (out of 5) has been an amazing kickstarter for the series with outstanding art from Niko Henrichon and a story from Robbie Thompson that will mesmerize you.
Ever since Captain Marvel's movie we have seen a great interest in the history of Skrulls their powers and their motives, and it can't be that much of a coincidence that "Meet The Skrulls" hit the market a day prior to the movie. Lest we forget we met quite a few Skrulls during the movie and we really enjoyed it.
As the comic preview betrays above "Meet The Skrulls" revolves around the Warners. A family that resembles a typical suburban family with one simple difference. They are shape-shifting aliens here to pave the way for the Skrull invasion.
Nothing can stop their plans except themselves.
The Warners even though shape-shifting Skrull agents with a mission they forgot to account one thing. Their own family issues.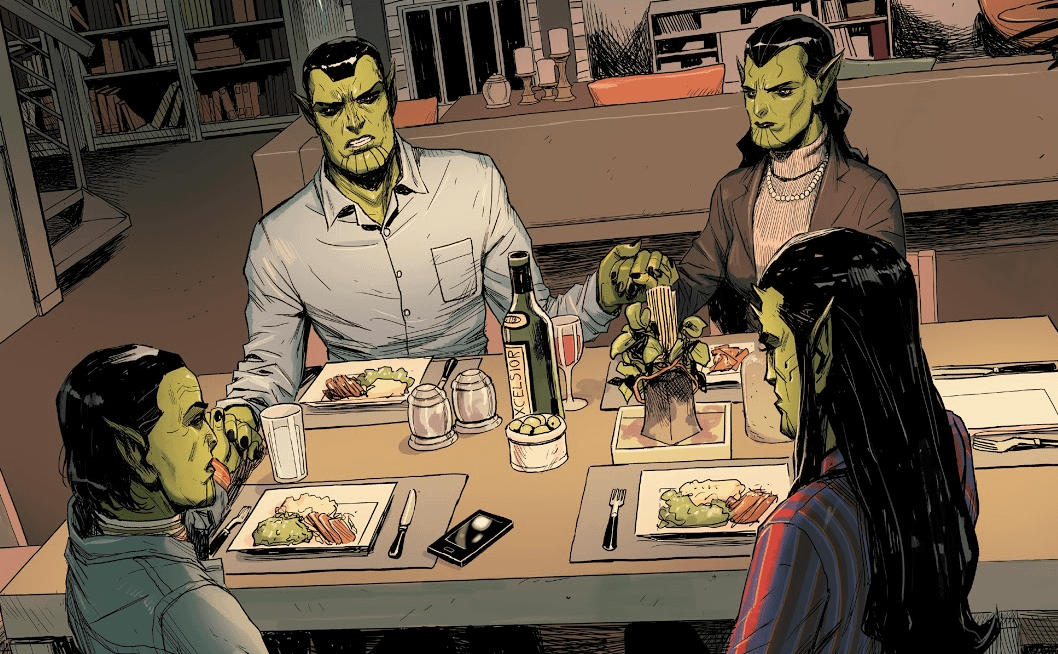 The Warner family consists of a four members. Carl the father, who secretly works for Tony Stark aka Ironman, in order to gain access to his files and Anti-Skrull tech. Gloria the mother, who works for Congresswoman Baker securing the votes necessary for her to get elected in order to push their own agenda forward. Madison, the eldest daughter who attends Stamford High School in order to infiltrate and befriend kids whose parents seem important.
Finally Alice, the younger daughter who we have a better view of her life but not her mission. Alice is young and grew on earth which affected her in more ways that the rest of her family. She has the usual teenage difficulties and can't perform her duties as required by her family.
We could basically describe this family as a super-alien dysfunctional family, which poses a number of similarities to the "Vision" comic series.
There is also something creepy going on, and here is where the comic becomes very interesting. We know they are here to destroy us, but we can't stop feeling sorry for them or empathizing with the characters in multiple levels.
An organization is hunting them down family by family, and a project called Project Blossom will help the government to finally be able to root them out by seeing under their shape-shifting abilities. In the meantime, a mysterious agent is hunting and electrocuting every Skrull he can find. And he is on the trail of Alice.