May the 4th be with you young padawan.
Another glorious Star Wars day has arrived and like any normal, geeky fan out there we are thrilled about it but first of all, we decided to spend some time explaining what this is all about.

May the 4th is considered a holiday across the universe. Also known as Star Wars day, May the 4th goes back decades, from what it might be the first reference of May the 4th as a Star Wars pun on May 4th, 1979 when Margaret Thatcher took office. Her own political party, the Conservatives placed a billboard congratulating her for her victory. The billboard read "May the Fourth Be with You, Maggie. Congratulations."

After that one first occurrence, the game was on for millions of Star Wars fans who used the catchphrase for celebrating in spread occurrences throughout the years until social media brought us together.

In 2011 the first organized Star Wars Day took place in Toronto, Canada at the Toronto Underground Cinema and since 2013 Disney officially participates in the celebratory events.

But let's take a look back into what made Star Wars a great addition to the comic world.
Star Wars Comics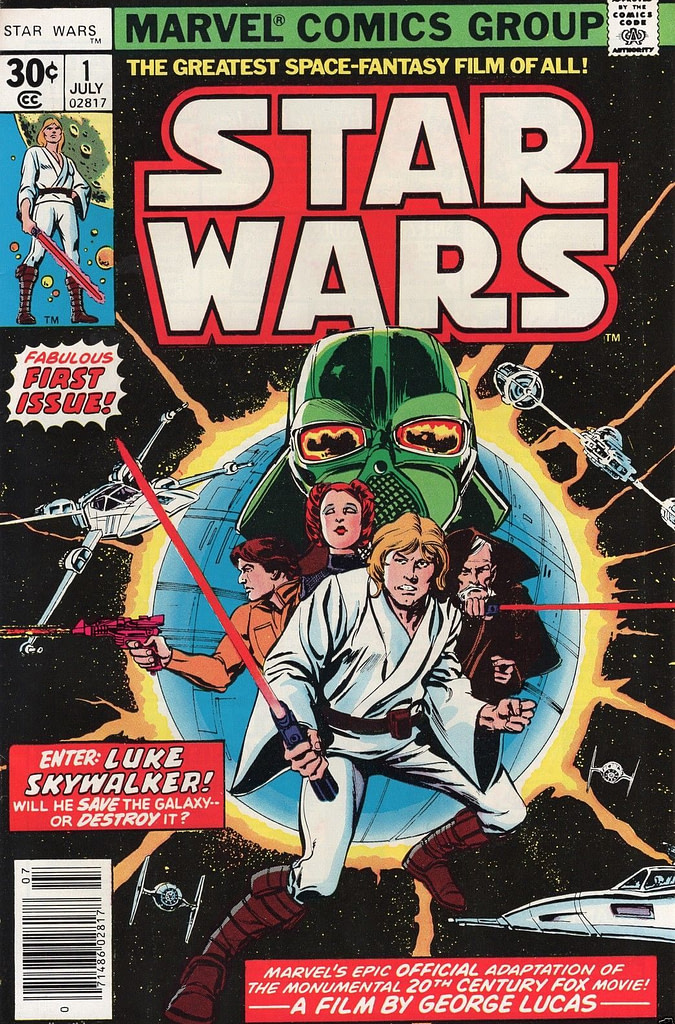 It all started with this one back in July 1977 just about the same time the first movie came out, Marvel published the first Star Wars series that ran from 1977 till 1986 with the first six issues of the comic being the adaptation of the first movie and the original stories started from issue seven onwards. Since then a number of publications have worked with the title on dozens of different unique series.
After the success of the initial stories, Marvel Comics, kept on producing original stories expanding the Star Wars universe in a way that helped the francince reach new heights. In a way, Lucasfilm and Marvel Comics in collaboration grew the universe together with various creative teams participating in the comic stories.
During the decade of '77 and '87, Marvel Comics had published four comic series along with three annuals and two illustrated books.
Blackthorne publishing took over for a short while during '87 publishing a three-issue series called Star Wars 3-D.
Dark Horse stepped up early '90s picking up the Star Wars flame and publishing dozens of Star Wars related mini-series making it one of the largest collection of mini-series in the comicverse. A simple search within the Dark Horse website produces around 1,300 Star Wars related results.
Finaly in 2015, Star Wars found it's way back to Marvel. With Disney acquiring both Marvel Entertainment and Lucasfilm the turn to Marvel Comics once again was inevitable and it was welcomed by the fans since the creative teams behind Marvel Comics brought us some amazing stories. From Star Wars: Darth Vader and Star Wars: Doctor Aphra to the Age of Star Wars: Maxiseries (Star Wars: Age of Republic, Star Wars: Age of Rebelion and Star Wars: Age of Resistance).

Star Wars Merchandising
It wasn't just the movies and the comics that made history when it came to Star Wars. Everyone around the globe whether a fan or not, owned some kind of a Star Wars merchandise whether that was a toy Luke Skywaker or a lightsaber to mimic fighting the Siths with their friends (or being the Siths).
George Lucas took a whooping $500,000 pay cut in order to exclusively own the merchandising rights which after the first six movies returned revenue of approximately $20 billion dollars.
Fans all over the world started competing who would have the greatest toy collection and things got very interesting when single toys such as
Rocket Firing Boba Fett was sold for $150,000 dollars or Telescoping Darth Vader which sold for $30,000.
Today toy collectors genuinly present in the most prominent positions of their shelves Star Wars toys and for a great reason. It's a line of toys that made history and will continue for decades to come.
Check out some of our favorite, all-time best Star Wars Toys!
May the force be with you all and from the team at 101Comics.com we hope you have a fanastic Star Wars Day!